Data Entry Representatives needed to Work from Home FULL-TIME!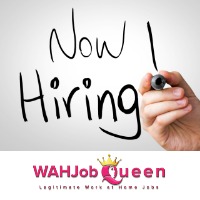 *HOT HOT JOB* Cardinal Health is seeking Data Entry Representative(s) to Work from Home – FULL-TIME. Apply right away if interested.
In this role: You will be responsible for answering emails/fax from customers to place orders or reorders of medical supplies. Agents will act as a liaison, problem-solving order issues, researching accounts and providing resolutions in a high-volume call center.
Schedule details:
"Your new hire training will take place Monday-Friday, 8:30am-5pm EST, mandatory attendance is required.  Once you have completed new hire training, you will take part in a shift bid to determine your schedule."
"This position is full-time (40 hours/week).  Employees are required to have flexibility to work any of our shift schedules during our normal business hours of 8am-9pm EST Mon-Fri and 9am-3pm EST Sat.  Agents assigned a shift with a Saturday workday will receive a shift differential of $1/hr. Agents assigned a shift that ends at OR after 8pm, will receive a shift differential of $2/hr."
High school diploma REQUIRED.
There is also a Customer Service Representative position open. In this role: You will be responsible for performing all tasks relative to translating the customer's information, including, but not limited to, demographics, product information, and order information.
CLICK HERE TO APPLY! Remember to CLAIM it, and it is YOURS!