Virtual Hiring Event – 100% Remote Opportunities + $1,000 sign on BONUS!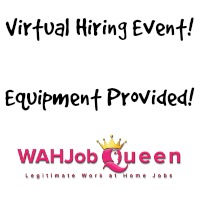 Valvoline is having a Virtual Hiring Event! They are actively recruiting for Support Center Representatives and will provide ALL equipment & PAID training. Pay starts at $15.38hr.
In this role: You will assist customers with issues and inquiries via phone.
Must be willing to work  12 – 9pm, 1 – 10pm, and 2 – 11pm EST including weekends (2 days off during the week).
The company offers the following perks and benefits:
Health insurance plans (medical, dental, vision)
8% company match on 401(k) if you contribute 4%
Incentive pay*
Personal Time Off
Tuition reimbursement*
Employee Discounts
A fun work environment
Advancement opportunities
High School Diploma required.
Even MORE exciting NEWS, on Wednesday, July 28th between 3-4pm EST, Valvoline will be hosting an informational session for you guys! I will have that link ready for you later so keep an eye on your emails!!
CLICK HERE TO APPLY!! *Note* The link MAY take a while to load, please be patient. Remember to CLAIM it, and it is YOURS!