AMAZON is Hiring Tech Support Associates Full-Time – Equipment Provided with PERMANENT possibility!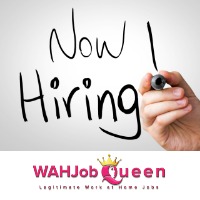 Amazon is seeking SEASONAL Technical Support Associates to Work from Home. Seasonal employees in this role also have the ability to be hired on permanently based on individual performance and business need. Pay is $15 per hour with equipment provided.
In this role: You will assist Amazon customers by phone, e-mail and/or chat.
From the company:
"What is a Full-Time position in Customer Service?
Our Virtual Customer Service is open 24 hours per day, 7 days a week As a Seasonal Amazon Customer Service employee your work schedule could fall anywhere in between these hours, and may often require one or both weekend days. You will be expected to work 40 hours per week in this role, with the additional expectation to work up-to 60 hours a week if there is a business need, large-scale event, or if peak season requires."
"Working hours for all associates increase substantially during our Peak season(s) and can increase during other times of the year due to business needs. In order to support our customers, vacation requests are not granted during our Peak season(s) and identified blackout periods unless otherwise required by law. You may also be required to work on any/all major holidays.
*Seasonal employees may remain with Amazon in a temporary capacity for up to nine months, or a shorter period of time depending on business need.  Seasonal Employees in this role also have the ability to be hired on permanently based on individual performance and business need."
The company provides:
Overtime pay at 1.5x base rate
Employee Discount
Resources for Living Program
A supportive team of leaders and peers
Gain customer service experience and build your resume
Time Off Options
401k
In order to be considered for this position, you MUST be a resident of one of the following states: Alabama, Arizona, Arkansas, Delaware, Florida, Georgia, Indiana, Iowa, Kansas, Kentucky, Louisiana, Maine, Maryland, Michigan, Mississippi, Missouri, Nebraska, New Jersey, New Mexico, New York, Oklahoma, Pennsylvania, South Dakota, Tennessee, Texas, Vermont, Virginia, Washington, West Virginia, Wisconsin, Wyoming. Any applicants with home addresses outside of hiring states will not be considered.
CLICK HERE TO APPLY! Remember to CLAIM it, and it's YOURS!