Chat Positions OPEN – Urgent Need – Start 5/10/21 – Apply Immediately!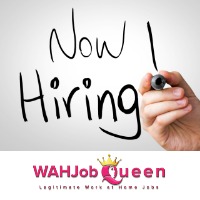 Chat positions available!! Startek reached out to me again and they have an urgent need for chat agents.
Over the next 3 days the company needs to fill 80 chat positions with a start date of 5/10. The hours for training are 1pm-10pm or 2pm-11pm then schedules after training vary some day shift some mid day and some as late as 5 so please be flexible.
Pay is $10.50 to start then will increase to $11 after 60 days. There are voice positions available as well if you are looking for a Monday-Friday shift or if you don't qualify for the chat position. If you are looking to work, I recommend you apply immediately as this will go fast. Be sure to mention "WAHJobQueen" when applying. 😉
Note: You DO NOT have to live in the state listed to apply, so apply apply apply.
CLICK HERE TO TO GET STARTED!!